How Public Mobile began
Before we review Public Mobile, we thought you'd like to know who they are, and how they came about.
Once an independent company, Public Mobile started as a push from the Canadian government to increase competition in the wireless industry. Its main strategy is to compete on price (ding ding ding!). Then in 2013, Telus bought Public Mobile. Also called an MVNO (mobile virtual network operator), basically just a sister company of Telus.
The whole premise of Public Mobile is to save money. (I'll just abbreviate Public Mobile to PM from now on)
It's a discount brand, similar to Rogers' Chatr and Bell's Lucky Mobile.
It offers prepaid service, only. That is, you buy the service first, and then it is delivered.
There are NO overages with PM. You can't consume extra data, because it would have to be bought before-hand!
Public Mobile Customer Service
With PM, there's no agent to call, there's no one to talk to. But wait, that's actually a good thing!
Listen, we're in 2020. Technology can help. And I believe Canadians deserve better jobs than customer service. (I used to work in a call center, and trust me, no one calls you because they are happy lol!)
What if I told you that if you spent a bit of time learning how to do it, you could resolve any and all issue you have?
So how does it actually work?
You order your SIM card online, activate the service online, and just pop the SIM card in your phone, and you're done.
I'm honestly happy to see this happen, because I feel more in control, being able to do everything without the help of an employee.
Need to change your plan? For any account change, all of the self-serve options are available when you log into your account online.
If you need support, PM has a super intelligent robot that can solve your problem! His name is Simon, and you can ask him whatever. "Transfer my phone number", "Buy more data", and so on!
Also for support, they have an impressive online community where, chances are someone has already had the same issue as you, and the answer is sitting there, waiting for you.
This is the way of the future, I think. It costs less, and makes things more efficient. (I for one am tired of reading account numbers to an agent over the phone!)
If you're really stuck, you can open a ticket with a moderator.
So if you must absolutely talk to someone to make account changes or support, PM is not right for you.
No telephones
PM does not sell any phone.
You might think this is crazy as well, but it's not, I assure you. You can buy unlocked phones from many places today: Walmart, Costco, BestBuy.
If you're looking to save even more money, GetOrchard sells certified used phones with a 3 month guarantee.
If you're looking to buy a phone from another person (Kijiji or Marketplace), rest assured that all phones sold since Dec 2017 must be sold unlocked, according to law.
Public Mobile Coverage & Network
Public Mobile is on the Telus/Bell network (same with Koodo), so you'll get the best coverage in the country!
As for the speeds, PM advertises as being 3G. But this isn't exact, it's actually better than this! They use 4G LTE that is limited to 3 megabits per second.
The 3 megabit speed is really not an issue; you can still stream YouTube no issue! And check your email, of course.
Public Mobile plans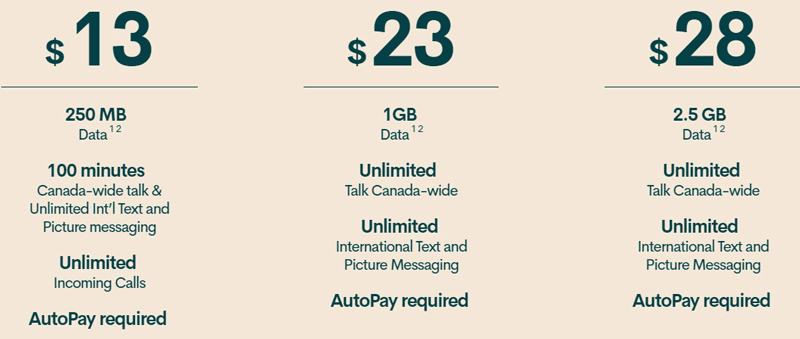 Reduce your bill with Rewards

This is what I love the most about PM! There are all kinds of way to reduce your monthly bill. Keep reading!
it's even possible to get your plan down to $0 per month, but that is rare.
You'll get $2 off (every month!) for adding your credit card on autopay. (Visa Debit works also!)
A dollar off (every month!) for each year of being with PM. Loyalty pays.
A dollar off (again, every month!) for each friend you refer to PM. Your friend gets a $10 credit.
It adds up, trust me!
Other advantages of PM are:
– No one trying to sell you phones or plans
– No surprise bills since it's prepaid
– No credit checks
– No contracts

Public Mobile Roaming
PM has good options for USA travellers. For example, here's what's offered for the USA:
Unlimited Talk, International Text and 250mb Data: $20 for 10 days
Unlimited Talk, International Text: $15 for 10 days
Unlimited Talk: $8 for 10 days
Unlimited International Text Only: $8 for 10 days
Data only for 10 days: 250mb for $10, 500mb for $15, 1gb for $20
Public Mobile Phones
As mentioned earlier, Public Mobile does not sell phones.
Technically, you'll have to make sure that your phone can support the following radio frequencies:
HSPA: 850 MHz, 1900 MHz
LTE: 1700/2100 MHz (AWS)
LTE Advanced (LTE-A): 2600 MHz, 700 MHz
To verify this, visit the website "Will my Phone work?". This way you can ensure your phone is compatible with the network. If you're not sure, just ask in the comments below.
You'll need to bring your own unlocked device and purchase a sim card from them for a one time fee of $10.
Their SIM card is a "triple punch"; meaning it can be used either as a standard-size simcard, micro sim card or nano sim card – essentially covering every type of phone.
What phones will work on Public Mobile?
All models of iPhones are compatible with Public Mobile, so you can use an older one.
Here are the most popular devices which will work:
iPhone X iPhone 8 Plus iPhone 8 iPhone 7 Plus
iPhone 7 iPhone 6S iPhone 6 iPhone SE
Samsung Galaxy S9+ Samsung Galaxy S9 Samsung Galaxy Note 8 Samsung Galaxy A8
Samsung Galaxy S8+ Samsung Galaxy S8 Samsung Galaxy A5 Samsung J3 Prime
Google Pixel 2 XL Google Pixel 2 HUAWEI P20 Pro HUAWEI P20
LG Q Stylo + LG Stylo 3 Plus LG G7 ThinQ LG G6
LG X Power 3 LG X Power 2 Samsung Xcover 4 Alcatel GO FLIP
Blackberry Motion Blackberry KEYOne Blackberry KEY2
My Recommendation
Public Mobile is hands down my provider of choice.
People who need fast data will be happy with Public Mobile's 4G LTE speed (purchased as an addon) – in contrast to Lucky Mobile and Chatr's 3G only service, this is a big difference.
What are the disadvantages of Public Mobile?
If you're the type that needs to talk to someone, you won't get that with Public Mobile – They have no customer service number nor any physical location – Everything is done online, from changing your plan to resolving problems.
You'll need to buy a phone on your own. Either the Apple store, Costco, Walmart, or Kijiji, Marketplace.
Read more on How is Public Mobile Different and is that a good thing?
Are you a Public Mobile customer?
We'd love to hear from you! How would you rate them? Let us know below!